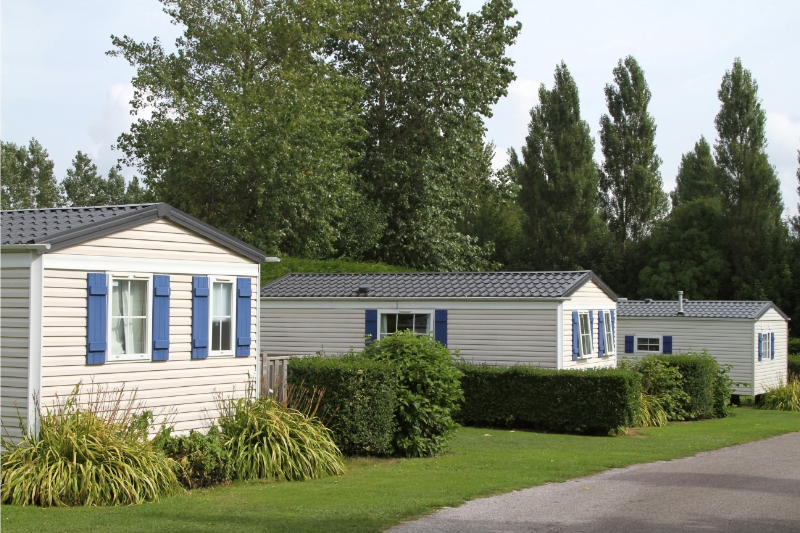 In the UK you can live in a static caravan permanently on your own private land (subject to planning permission) or in a residential park. It's an appealing option for most people looking for an affordable, year round address, with the comfort and security of full time accommodation but without the spiralling costs of a traditional house.
Modern static caravans now offer incredible luxury as a viable choice for a main home and owners can enjoy life in a caravan without spending money to pay off a property's mortgage and interest. Here we look at what you need to know about living in a caravan long term in the UK and how you and your family could benefit.
Browse static caravans for sale from leading brands like Willerby and Delta suitable for a range of budgets, and call us on 01403 274877 to book a viewing.
What is life in a caravan actually like?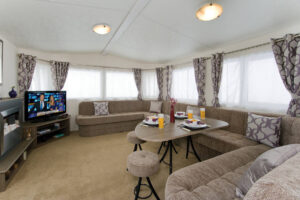 Living in a caravan will make your static quickly become home with all of the luxury and comforts you're used to. Depending on your budget you can buy static caravans with plenty of space, mod-cons and features such as bay windows, french doors and even three or more bedrooms. Gone are the days of  small caravans with just the basic functionalities needed for living – you can choose a mobile home that offers it all.
With such comfort on offer, there is no issue being in a static caravan full time and choosing a model with double glazing and central heating will make even winter warm and cosy. Read our guide on how to winterise a static caravan for tips on how to make your caravan more comfortable during the winter. You should also consider other features you require from your static caravan, including any future proofing should your situation change. Ensure you have enough storage and space available for your belongings (especially if you are downsizing) and whether or not you would benefit from an en-suite main bedroom.
Ultimately, living in a static caravan will become very similar to a traditional home over time and residential parks will be able to help new owners settle in.
Pros of living in a caravan


There are many benefits to living in a caravan and depending on your personal situation, some may be more important that others in helping you make the decision when you pick your model:
Reduced costs/more disposable income
Less maintenance and upkeep required
Access to well-kept residential caravan sites
Luxury amenities that you may not have been able to afford in a brick and mortar home
Access to beautiful locations
The ability to move location with your static (based on your park or planning permission agreements)
The chance for a quieter way of living
You can feel more like you're on holiday as all the benefits can make it less stressful
In comparison to renting a static caravan, buying a park home to live in permanently allows you greater freedom. You can customise it exactly to your liking inside, making it more cosy and a reflection on your personality. You can also really settle down and enjoy living in one location without the additional costs of a house.
How to make the move to living in a static caravan long term


The typical process required to buy and move into a caravan as long term accommodation involves:
Creating a budget including initial costs and ongoing fees (utilities, sites fees, maintenance, land rental etc)
Researching and viewing static caravans to buy
Finding land or site owners with parks for your static (and agreeing to terms)
Purchasing your static (and selling your home if applicable)
Organising transportation and siting, payment for insurance and any relevant taxes
Adding in any security features, personal features to the interior to make it feel like home
Why do people choose caravans as permanent homes?
Whilst many may think of 'holiday living' 24/7, the truth is that people choose to live in static caravans for both practical and aspirational reasons:
To downsize
Older couples may have quite a large permanent address where they brought up children, but now live alone. Downsizing allows for the release of equity and reduces stress factors like maintenance and upkeep. The sale of a property should more than enough pay for the price of a luxury static caravan, one that can be lived in for many years to come.
For a better quality of life
This means something different for everyone but if you consider moving from a city or urban landscape into a quiet residential park or onto a private plot in the countryside, you can understand that quality of life is a huge consideration. As caravans cost less than traditional homes, many caravaners will have greater disposable income to spend on themselves and days out, spending time as they truly want to.
For greater flexibility
Once you have found where to live and have sited your static, you do have the option of re-siting it in the future based on your changing needs, to be closer to relatives, or simply for a change of scenery. Whilst this needs to be done within the terms of your agreement if you live at a caravan site, it does offer more flexibility that a brick and mortar home that can't be relocated.
To save money
This reason can't be overlooked – living in a caravan is cheaper than living in a brick and mortar property. The initial cost is considerably lower to buy a unit and they are also cheaper to run. As you can't get a mortgage on a static, most owners buy upfront so they already know their budget and can plan to live within their means.
To be a part of a community
Residential caravan parks in the UK will generally only accept permanent residents who are aged 55 or over, creating thriving, like-minded communities. Of course if you site on land you own, you will have done your own research on the area and whether it's right for you.
Living in a caravan FAQ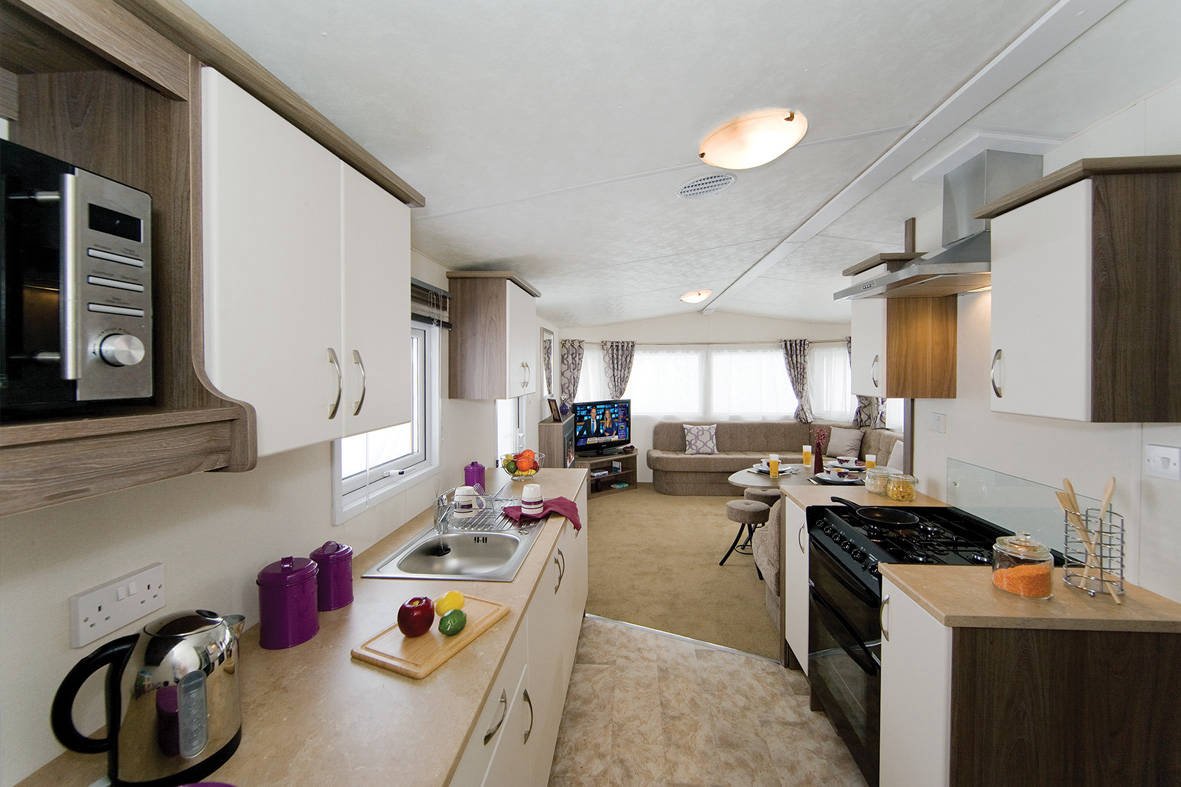 Can you legally live in a caravan?
Yes, you can live legally in a caravan year round in the UK and have it as your main house. You just need to find a suitable plot of land and get planning permission, or find residential parks near you where you'd like to live. This can be based on a number of factors including their utilities, amenities, costs to rent a plot and the park's aesthetics.
Be sure to check any specifics with the caravan site or sites you're interested in as they may operate with different rules to one another and you need to find an agreement that's suitable for your living requirements.
Is it cheaper to live in a caravan?
It will be cheaper to live in a static caravan than a traditional house and most caravan owners save money when they live year round in a static on:
Utility bills
Council tax
Mortgage payments and interest
As statics require less energy to run, you can save money on your bills and also live more environmentally friendly. Of course, this is in addition to the huge cost savings on buying a traditional property with a mortgage; whilst caravans may cost £30,000 or more for high end, large models, they are bought up front without a mortgage, making them a lot cheaper as an initial investment and as time goes on.
There are however costs to consider such as site fees, pitch fees and transportation costs. Read more in our guide 'Additional Static Caravan Costs To Consider For Ownership'.
Where can you live in a caravan permanently?
You can live in a caravan permanently either on your own land (subject to planning permission), private land with the permission of the land owner (subject to planning permission), or at residential caravan sites. Holiday parks are designed for short term getaways and may be closed for part of the year, so are generally not suitable for permanent residence.
Are there any cons to life in a caravan?
Life in a caravan may have cons similar to a brick and mortar home. If you're living in a static caravan on a caravan site, then you will be connected to the mains gas, electricity and water so you can't quickly move on or have the freedom associated with a touring caravan, but this is true of any permanent address. You will also likely be under a contractual agreement with a residential park so would have to plan a move accordingly within these terms, and arrange for safe de-siting and transportation.
Always check arrangements with caravan site owners before you choose your location. If you site privately you will still be restricted under the planning permission and local council rules.
Other things to consider:
Does a mobile home or park home offer enough space for your belongings?
Are there any developments being planned for adjoining land next to your planned site?
When will you be looking to replace your caravan? Some residential sites may require statics to be under a certain age
Speak with N.Doe Caravans
At N.Doe Caravans we have decades of experience in helping buyers pick the right static caravan for their requirements, where they can live permanently and ultimately spend less. Don't hesitate to use our expertise and get in touch if you have any questions on our caravan stock in the UK.
If you have a particular model in mind but can't find it on our website, we may be able to source it for you.