Renting static caravans is an excellent choice to provide temporary accommodation for self build construction and renovation projects. Convenient, affordable and flexible, they are well suited to both short and long term leases, which makes them a popular choice for homeowners and construction workers alike.
At N Doe Caravans we supply caravans to self builders and construction companies, and have years of knowledge and expertise to help you find affordable static caravans for hire.
To book a viewing for any of our static caravans and to discuss your requirements with us, please call 01403 274877 and select option one.
Project caravans in stock
Benefits of static caravans for self build projects
We stock a wide range of modern static caravans suitable for self builders and their family. Renting static caravans offers a wide range of benefits:
Reduced accommodation costs – caravan accommodation is much cheaper than hotels, B&Bs or brick and mortar properties.
Increased site security – you're on location day and night during the project, which will deter criminals.
Reduced stress and admin – you can keep an eye on building progress, take deliveries as normal and have no need to change your address.
Comfortable living and quality family life – modern static caravans have all the mod cons of home and most offer open plan living, meaning your family can spend time together as normal.
Easy exit strategy – as you've rented rather than bought, you can have the static caravan collected when your construction project is complete.
Find out about the other advantages in our guide 'The Benefits Of Static Caravans For Self Build Projects'.
Static caravan hire for self builders
Over the years we have supplied static caravans to many self builders whilst their home is being built or renovated. Often sharing with family members, comfort is essential and we have the perfect range available to rent.
Most who choose this form of temporary accommodation do so to get the balance right between cost and quality. Often hotels and traditional houses are too expensive or have contract terms that aren't as flexible or appropriate.
Caravans ideal for families can include: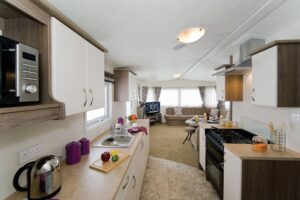 En-suite bathrooms
Open plan kitchen/diner
2-3 bedrooms
Twin bedrooms
On the other hand, we can find the right caravan to suit your budget and provide you with incredible flexibility. Choosing a static caravan gives you the advantage of being able to move out of your house during renovations without having to change your address.
Why hire self build accommodation from N.Doe Caravans?
A fantastic range of rental units to suit your specific needs
We set-up the statics and offer static caravan siting services to get your unit or units safely in place
Transportation to and from the property
Affordable rental costs
Flexible short and long term leases
Static caravans for hire for building projects FAQ
Are short and long term hires available?

Yes, both short and long term hires are available for our customers.
If your project looks like it may overrun substantially, you may want to consider static caravans for sale, after which you can take part in our buy-back scheme once you're ready to sell it on. Once your project is over, just call us and we can let you know its trade value. If you are happy with our offer, we will purchase your unit back and collect it from you, within 100 miles of Horsham, West Sussex.
Our buy back scheme is dependent on our stock requirements and the condition of the unit.
Is buying a caravan an option for temporary accommodation?
Yes, buying rather than renting a caravan is also an option. Depending on the length of your construction project, this may be a more cost-effective solution, and allows you to benefit from a more luxurious model. Browse our used static caravans for sale or call us now to discuss if you're unsure if you need to buy or rent a caravan.
Will you need planning permission?

Typically, yes, you will require planning permission to site a static caravan for a construction project, but ultimately it depends on the purpose and location of your potential site, and your local council.
You should always check with your local planning department what planning permissions may be applicable in the area you live or are working in, before a caravan is transported and sited.
Hire a static caravan for self build and construction work
If you have a project planned and are looking for temporary accommodation, we would recommend choosing one or more static caravans to house you and your family.
Get in touch today about our caravan stock by calling 01403 274877 with your requirements.
We are open Mon- Fri 8am-5pm and have sales appointments available seven days a week.