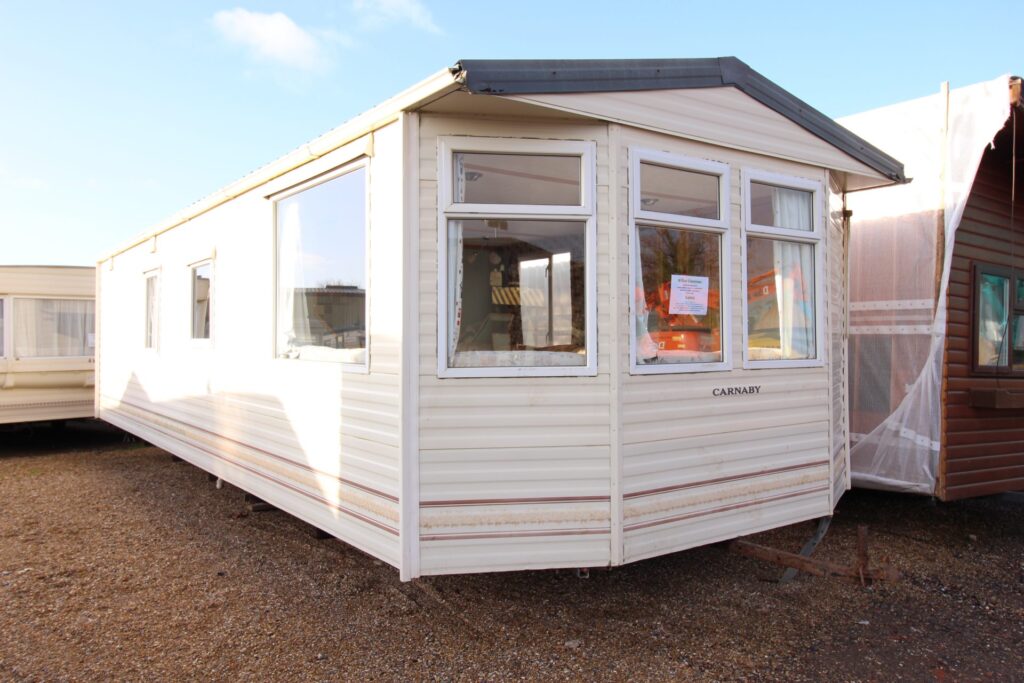 Used static caravans provide incredible flexibility for couples, families and singles looking for cost effective accommodation, whether permanent or temporary, domestic or commercial. At N. Doe Caravans we're proud to supply high quality, used static caravans to a variety of people for a variety of purposes and have the expertise to help you find the perfect used static for your needs.
Why do people choose used static caravans over brand new models? Whilst we offer both, most chose a used or second hand static due to the affordability. There are huge cost savings to be made for all budgets.
Aside from cost, here are our top five reasons to buy a used static caravan:
Why buy used static caravans?
1. An appealling investment
Further to used models having a cost benefit when compared to buying new, they can also be sold on at a later date to recoup a significant part of your initial investment. This is ideal is you're looking for a home for a couple of years, or need to house staff off-site for a longer construction project, but will have no use for the unit when the project ends.
With so many uses for owners, there is also the possibility of buying a model, using it yourself and then renting it out throughout the rest of the year. This can yield a steady income depending on the area of the UK where your caravan is sited. From families wanting a memorable holiday, to workers looking for a cost conscious yet comfortable home when working on seasonal projects, there are a lot of potential renters .
2. A space for quality time
When you have a static caravan, the choice is yours. You can have the luxury of closer time together, or a little more space according to your wishes. 1, 2 and 3 bedroom used statics can offer the ideal solution.
You will want to think carefully about the number of bedrooms when choosing your static:
Will people be happy sharing rooms?
How well do your kids get along in a smaller space?
Do you prefer more space to meet the needs of a growing family or working team?
For couples and families, sharing could be fun but for older families and for professionals using static accommodation, a bedroom each will be ideal. It is important to think about personal space and privacy and comfort as well as cost. You'll also want to consider making sure that communal areas such as kitchens, bathrooms and living spaces are easy to access and have suitable storage.
3. Year round use
Traditionally, statics were associated with summer only accommodation, but these days are long gone. N.Doe Caravans has a range of strategies for making your accommodation comfortable and warm year round, with a range of models that come with both central heating and double glazing as standard.
Statics with central heating can be warmed up straight away with the flick of a switch, essentially the same as a traditional brick and mortar home. Although central heating will initially increase the cost, being able to use the static year round means that it is a sensible investment. The same can be said for double glazing which aids heat retention.
In comparison to buying new, you may be able to find good deals on models that were customised to be both central heated and double glazed after manufacture.
4. Higher spec for less
If you compare two like-for-like models, naturally the brand new model will cost more than the used static. With used models, you can typically get more for less and find a unit with more advanced features or add-ons than you otherwise would. By choosing used statics, you can increase your comfort by obtaining a larger model, one with central heating and better mod-cons, all without the inflated cost of buying new. Consider your options when researching and create a list of 'must haves' and 'would likes' to help you pick.
5. Flexibility is a bonus
Static caravans offer incredible freedom to their owners as a second home or work site, and can be re-sited after the duration of your stay
You can choose the location and duration of your stay, you can lend, rent or sublet your static to friends, family or clients. This flexibility is a key reason why many people make this choice. Once you decide to make a change, you can sell your caravan through us, whether you're looking to upgrade with a part exchange or simply no longer require one and want to free up funds.
What should you look for in a used static?
Here are some useful questions to ask when buying a used static:
How old is the model?
How many previous owners and how did they utilise it?
Have any works or repairs been completed on the unit?
Is it still within warranty?
It's recommended that you always view potential units in person to get a real feel for the size and condition, and to always check it can be sited at your chosen location. If you buy a model and then cannot physically fit it into the space you have for it, the investment becomes somewhat of a lost cause.
For more information on how to make the right decision and pick the best static for you, please read our ultimate static caravan buyer's checklist.
Siting services
When you decide that you want a new location for your static caravan, you may imagine that this will be tricky but it's actually relatively simple When it is time to position or relocate your static caravan, just give us a call. At N.Doe Caravans we have been helping our individual and corporate clients with siting statics for more than forty years and aim to take the hard work away from you, leaving you free to relax.
For our siting services, we ensure that everything specifically suits any warranty and insurance requirements for the unit, as well as preparing it for connections. Our experienced team take care of every aspect at any UK site – including watertight or full siting with internal trimming. We can work with large or small sites, tailoring our service to your needs.
Call us today
If you're thinking about buying a used static or renting one, get in touch with our experts to discuss your must haves and have nots, as well as your budget. You can visit our showground in West Sussex with an appointment to view some of our stock, or simply call us for more information on 01403 274877.