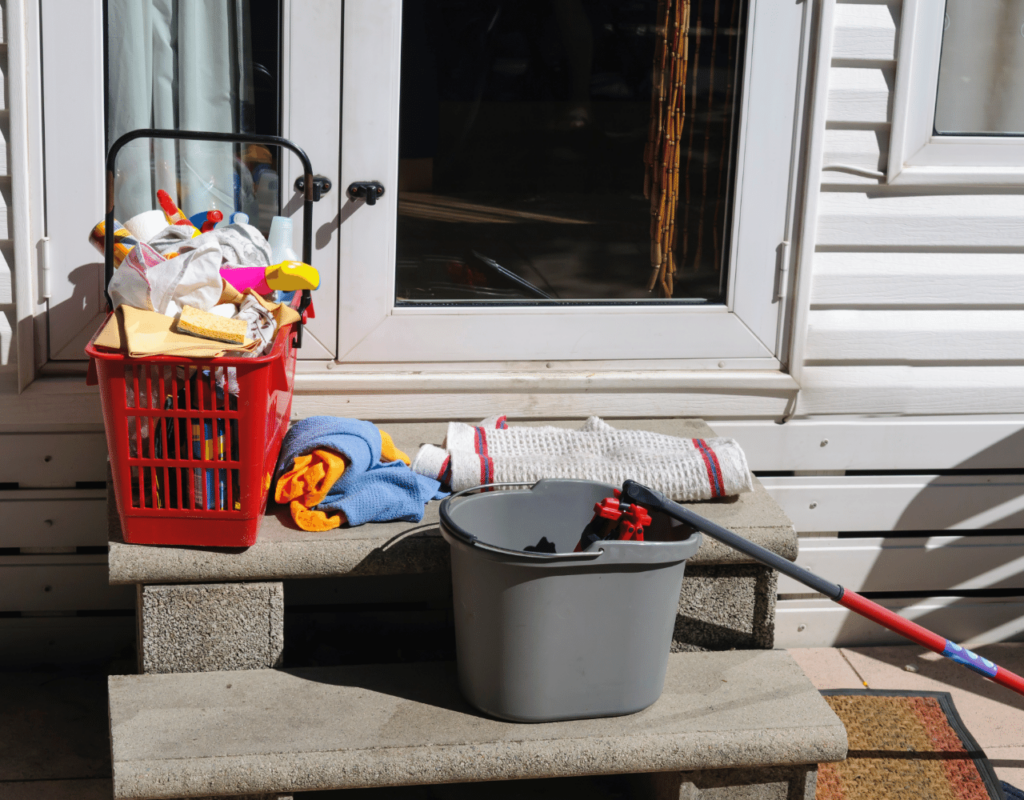 Cleaning a static caravan is an important part of caravan ownership and whether you're brand new to statics or a seasoned owner, knowing how to clean your home is essential. It can save you money on hiring a professional and help boost your enjoyment of living in a clean and tidy static that looks almost as good as new.
Regularly cleaning static caravans will also help improve their lifespan, providing you with better value for money, and will put them in a better position when it's time for you to sell your static caravan and invest in a newer model.
Exterior cleaning
Caravan roof and awnings
External cladding and windows
Caravan decking
Interior cleaning
General upkeep
Upholstery
Carpet cleaning
Further considerations
Discover our cleaning guide with tips for both the exterior and interior of your static caravan, and call us on 01403 274877 if you're looking to buy a used static caravan or sell your current model.
Static caravan exterior cleaning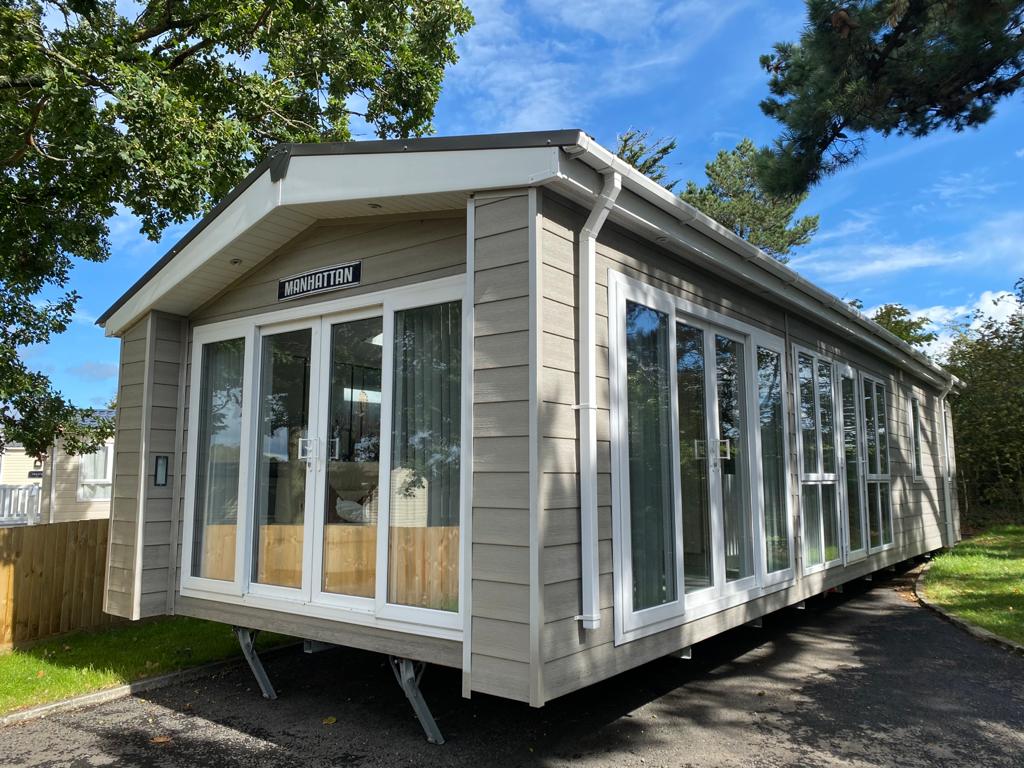 External or exterior cleaning of statics is quite costly when done professionally but is a great way to see your model shine like it would have in the showroom. It is however quite simple, with a home pressure washer and an automotive soap you caravan can be looking like new in no time.
If you're able and would prefer to clean the exterior yourself, always check the manufacturer's handbook and your warranty to ensure you don't break its terms.
Caravan roof and awnings
You need to be particularly careful when cleaning your static's roof and you will require a ladder, cleaning product, a hose, long mop or soft brush, and a cloth. If you haven't cleaned the roof in a long time, there may be quite a lot of dirt to remove so it can be hard work – seek help from family and friends if required.
Once you're happy with progress, rinse with water before drying with a damp cloth. Follow this process for the awnings as well. As dirt and debris are likely to fall from the roof and could mark the exterior of your static, start with the roof or work it into your cleaning of the cladding and windows to avoid extra work.
External cladding and windows
Hose or mop (invest in an extendable one) the caravan down with cold water to remove foliage, moss, grit and dirt, then apply a cleaning product with a sponge in sections before hosing off again as you go. To dry, use a flexible silicon blade; they're effective and help capture most of the excess water.
With the windows however, use a glass microfibre cloth to dry them and not the blade as it could scratch and damage the surface of the window. A cloth will be enough to avoid watermarks.
Every year you should also consider adding a step to this process by polishing and buffering the outside of your static (or waxing it). This process will make the cladding shine, removing the dullness that can affect paintwork over time as it's impacted by the sun's UV rays.
Caravan decking
Sweep the decking of any leaves and debris before hosing down with cold water. If you find any stubborn stains then apply a decking cleaner to the area with a soft brush and follow the specific product instructions, paying careful attention to understand if it's suitable to your decking material and/or paint.
Freshening up the decking is a great way to improve the overall appearance of your caravan and is particularly rewarding when you're preparing to spend more time outside in the spring and summer.
Static caravan interior cleaning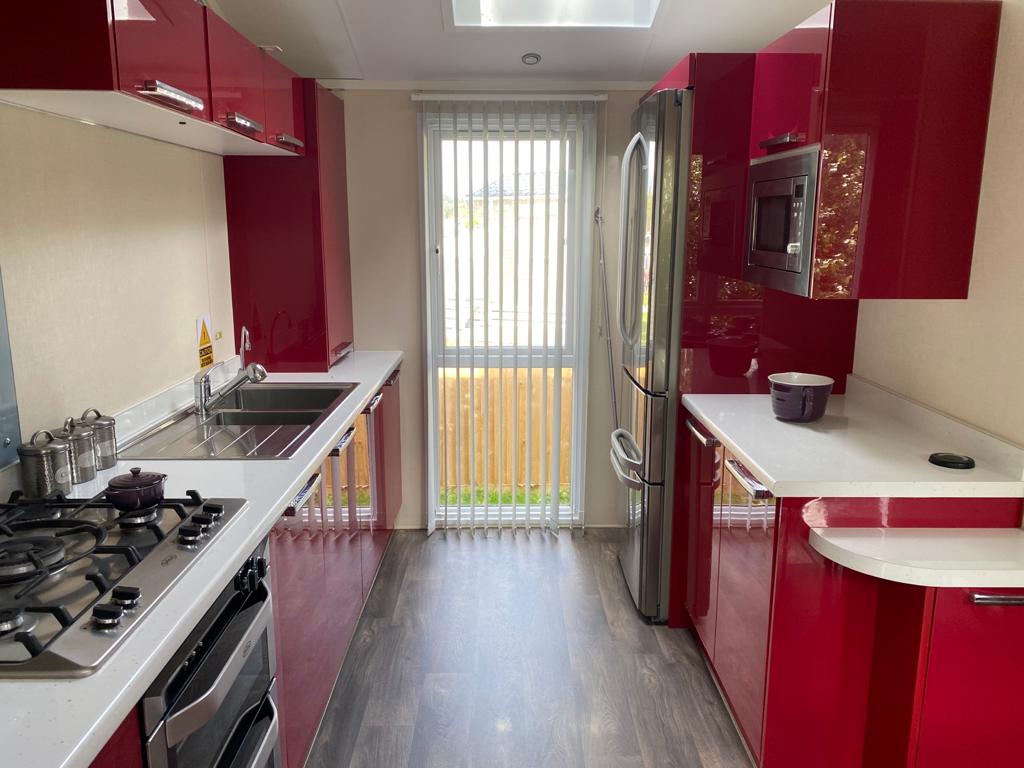 Cleaning inside your static is essentially the same as cleaning the inside of any home or property, but it may be trickier depending on the space so always take care, especially if using chemical cleaning products, particularly in bathrooms and kitchens. Keep your static well ventilated and take breaks as and when you need them.
General upkeep
Create a daily or weekly cleaning list to keep on top of general cleaning in your static and then also monthly cleaning tasks.
More frequent cleaning tasks include:
Dusting and vacuuming (portable vacuums can work well in smaller spaces)
Wiping down high traffic surfaces such as a kitchen countertop or bathroom sink
Cleaning mirrors and windows with a microfibre glass cloth
Tidying up items back to where they're stored
Whereas less frequent cleaning tasks include:
Upholstery
Carpet cleaning
Window cleaning (from inside)
Cleaning air vents
Dusting the ceiling and light fittings
Depending on how many people live in your static caravan will probably impact how often and how intensely you need to clean, but try not to put it off as the more there is to do, the less appealing it can be to start.
Upholstery
If covers are removable then check the labels as you may be able to run them in a delicate wash without shrinking the material, which could be the easiest option. Otherwise you can use a range of car upholstery cleaning products, such as foam sprays which can be wiped off with a damp cloth and left to dry.
If you have stubborn stains then look for more specialist products but check with the manufacturer if they're likely to damage the colour on your caravan's upholstery.
Carpet cleaning
Carpets in caravans can pick up many stains and marks, especially if you like the great outdoors. Dealing with marks quickly can make them easier to clean but if your carpet is generally looking tired, you could rent a carpet cleaning machine.
A carpet cleaning or carpet washing machine is a very effective piece of equipment that you essentially use to vacuum your carpet with a liquid cleaner to remove stubborn stains, dust and dirt. The first go around a room will pick up a lot and discolour the liquid in the machine, but will clear out with each attempt. Once it runs nearly clear, then you know you've removed the bulk of the dirt.
Further considerations
Check for any signs of damp, particularly in areas where the air can't move very freely, such as in and behind wardrobes and cupboards. Also check that air vents aren't blocked by dust and cobwebs to ensure there is good ventilation throughout your static home.
Caravan cleaning FAQ
What are the best caravan cleaning products?
For interior cleaning, the best products are often the same as you'd use in a traditional house. Try a range of brands to see which ones work best for you and where possible choose eco-friendly and ethically sourced products.
For exterior cleaning, especially if you are looking to do any pressure washing, research specific cleaning equipment and products for static caravans to protect your bodywork.
Can you pressure wash a static caravan?
Yes, but it isn't always the best option and if you're not used to it, we wouldn't recommend testing it on your static.
Whilst you can pressure wash a static caravan, you need to ensure that you use the correct attachment for your chosen equipment and that you stand the recommended distance from your caravan to clean its exterior. Failure to do so can result in damage to the bodywork and the paint as the force of the water is very powerful. You shouldn't pressure wash windows, seals or joints.
How often should you clean a caravan?
Ultimately this depends on the use. If you're renting out a static it will need to be cleaned between each guest and likely 'topped up' if there is a longer break between visitors as dust will accumulate. This cleaning cycle will differ greatly from off-peak to peak seasons.
If your static is your permanent home then it should be cleaned as often as you see fit, as and when it's required. Typically you may have daily and weekly cleaning chores for general upkeep and then look monthly, bi-monthly, seasonally or annually for the exterior, depending on the conditions.
Do I need to clean my static before selling it?
Whilst it is possible to sell a static that hasn't been fully cleaned, it is sensible to clean it to a high standard for caravan traders to view it or to see it looking it's best in photos. A dirty caravan may hide some of its value and a clean model is definitely easier to sell as it reduces the work for the buyer.
For more information, read our guide on 'How To Prepare Your Static Caravan For Sale'.
Do parks offer a cleaning service for static caravans?
Yes, many static caravan parks offer their own cleaning service to help save you time and energy and will be able to clean your static to a professional standard. If you're not able to clean your own static, then this is a very appealing option.
How can I reduce the amount of cleaning or make cleaning easier?
Keep your static tidy using storage boxes and try not to have too much clutter that can collect dust. Try to keep up with the smaller daily and weekly cleaning tasks so that you've worked 'little and often' rather than having it build up to an off putting, big spring clean.
You could also ask family and friends to help out to reduce the workload and put on music, a TV show or a film in the background to make it more fun.
Contact N. Doe Caravans to buy, rent or sell statics
Whilst you may be busy cleaning your current static caravan, when you're ready for a newer model, perhaps to upgrade to a larger space or for a more modern interior, get in touch to view high quality second hand units at our showground in Horsham, West Sussex.
Stocking leading brands and offering incredible value for money on high-end and budget statics, we'll be able to find the perfect used caravan for your requirements. We also offer statics to rent and have a competitive 'sell your static' service – call 01403 274877 for more information.