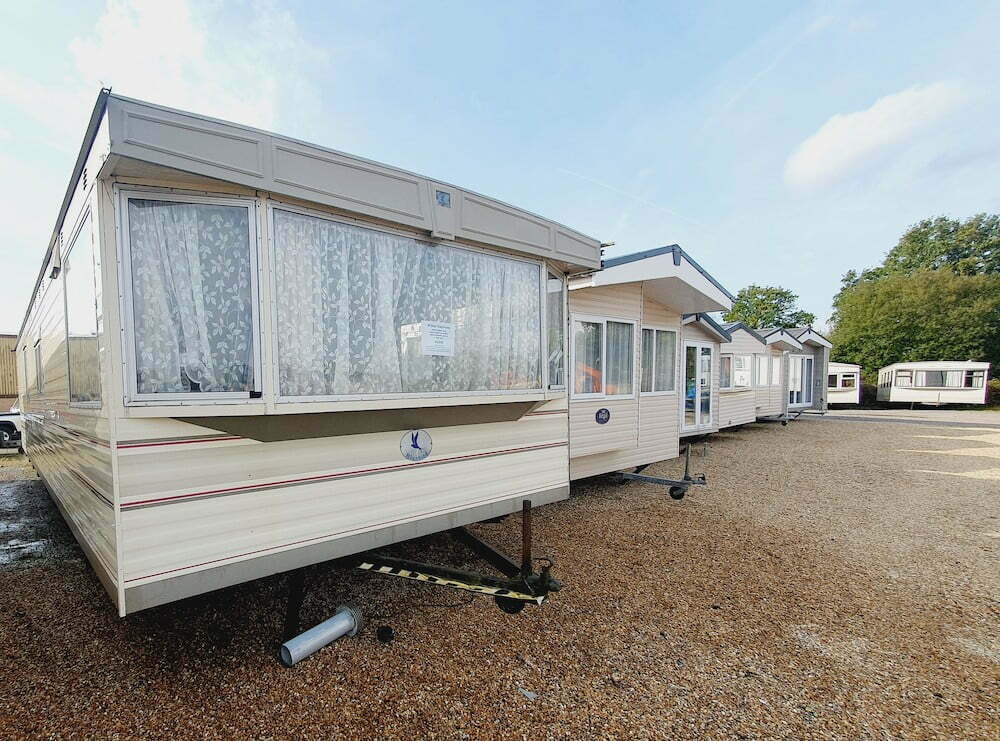 After you've owned a static caravan for several years you're likely to reach a point where you ask 'how do I sell my static caravan?', as you look to reinvest in a newer model or simply don't require it anymore. This is a good question as there are several ways to sell a caravan which can impact on the price you receive and how long it takes to sell.
Here we look at the different processes of selling a static caravan and top tips to help make the whole experience run smoothly.
Our staff are also on hand when you're ready to sell your static caravan – just submit a form or give us a call on 01403 274877. We keep it simple and will offer a no obligation valuation. If you sell to us, we will also arrange transportation to collect your static within 100 miles of our Horsham, West Sussex showground.
How do you sell a static caravan?
Once you've made the decision to sell there are three main routes to consider, depending on your situation. Ask yourself how quickly you need to sell, if you financially need a certain price for your caravan, and how much you want taken care of by the buyer rather than yourself, such as transportation.
The three main choices are:
Sell to the park owner
Can be a quick process
Not guaranteed the best price for your unit
If your static or holiday home is already sited at a holiday park, you may be able to sell it to the park owner, whether or not they originally sold it to you. This can be appealing as you don't need to organise transport  (although some traders, like N.Doe Caravans will do this for you if you sell to them) and the decision will usually be made by the park pretty quickly.
However, whilst a park will typically offer a fair price, it is usually less competitive overall and could come in lower than you expect, causing disappointment. If you're looking for no hassle and don't mind getting less than you could for your unit, it's worth considering. If you would prefer to get more back on your investment, you can turn down the offer and look elsewhere.
Sell to a caravan dealer
Can get the best industry prices
Contact one or two initially to understand their processes
Selling to caravan traders or dealers locally can save you time and help you to get a very competitive price. Before you reach out to traders, check that they buy static caravans privately as many prefer to work with holiday parks, or be looking to buy in bulk rather than single units.
Part of what sets our 'sell your caravan' service apart from other dealers is that we absolutely welcome enquiries from private sellers and will often buy just one unit at a time. For us the aim is to source a pre-owned static in a good condition, and often that comes from working with private sellers who have lived in or rented their unit for several years.
Sell privately
Requires the most out of your time and energy
Can take a long time to get a sale at a price you're happy with
Selling privately requires the most work on your part and if you decide to use multiple advertising channels, it can end up costing you financially as well. You can liken it to selling a traditional brick and mortar home without an estate agent – you'll need to set up listings on websites, take high quality photos, arrange meetings, haggle for the best price and ensure payment is received. This can all add up to a timely, stressful experience so it's highly recommended you consider just how much energy you would happily give to this process before you begin.
Unlike many caravan dealers, N. Doe Caravans buys from private sellers and we're perfectly positioned to make a quick decision and remove the caravan. Even if you're currently in the process of selling privately, get in touch and we may be able to save you time and even get you a better price.
How do I prepare my caravan to sell?
Prepare it for sale with a clean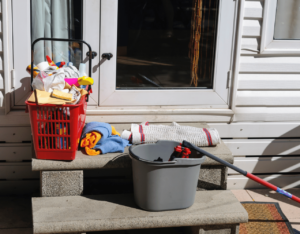 Make sure your static is cleaned as much as possible before photographs are taken and before any viewings take place. A clean static will showcase its selling points and make it look as spacious and inviting as possible. You should plan to clean both the interior and the exterior (a simple pressure wash can add to its value and speed of sale) and also air it out to keep things fresh. See our tips on caravan cleaning.
Ensure the photos look professional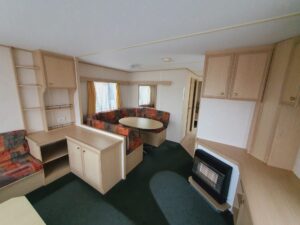 If you have the budget, hire a professional, but if you're working within a smaller budget, make sure you take photos in good weather conditions and with a fairly hi-res camera. Modern smartphones with their wider angle lenses are great for taking pictures of your caravan, but a compact camera or DSLR with standard lens will suffice. Concentrate on taking photos from multiple angles and trying to highlight your statics best features. You're most likely to require professional looking photos if you're selling privately.
Ensure it is in an accessible location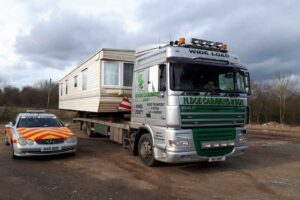 The buyer or transport company collecting your static caravan will need to be able to access it to remove it from its existing site and take it to its new location. Consider how easy it was to install originally and if any changes to the site have occurred that would make access more complex. Few buyers want to purchase a caravan that is going to be complex to collect. A caravan that went across a field or large grassed area when it was delivered, will only have a value at certain times of the year when the ground is hard enough for it to be retrieved.
For more information, read our guide on 'Assessing Access On Site'.
Consider selling at peak times
Whilst it's not always possible to wait, selling at peak times for demand can help you get the best price possible. In an average year, the peak time for selling is between January and April, ready for the summer months. In reality though, sell when it's the right time for you regardless.
For more information, read our guide on 'How To Prepare Your Static For Sale'.
What else should I consider before selling my caravan?
Do static caravans hold their value? What can you expect?
You may have a price in mind for selling, based on what you originally bought your static for and how much you think it would have depreciated over time. As with cars, they generally lose the most value when they are bought new and transition into being a used static caravan. Generally, statics that are well looked after, offer both double glazing and central heating and extras like decking, will get the best prices.
It's also important to consider that if you bought it through a holiday park, the initial cost would have included the static but would probably have also included additional costs including pitching and site fees, making the price gap seem greater when you come to sell.
If you bought your caravan pre-owned a fair part of what you may have paid would have been the cost of its transport from its original owner to yourself.
What if your caravan is no longer fit for use?
If you are holding on to a static caravan that is no longer fit for purpose and you don't feel it's suitable to sell for someone to move into, we are licensed waste carriers and can de-site, remove and dispose of scrap caravans. Simply call us for a quote.
Can you sell with outstanding finance?
If you don't own the unit outright and are still paying off a finance loan, you'll need to speak with your finance company about your options. It is possible that the buyer can essentially settle the loan in buying the caravan, and if there is any excess, this is what you would receive from the sale.
Sell to N.Doe Caravans today
We offer a quick and easy sales process to benefit you, the seller. We're interested in good to very good condition pre-owned statics manufactured after 2000, including twin units and lodges, and will collect within 100 miles of our showground in Horsham. Just call us or submit your details using our contact form and we will prepare a free, no obligation valuation if your unit is suitable.